Pistachio harvest begins in northeast Iran, 2023 Good Year for Iranian Pistachio Exports
Jajarm county in the northeastern province of North Khorasan is a main producer of pistachio in the country. The harvest season begins in the end of summer and runs through the early autumn. The country's pistachio production is predicted to increase by 55,000 tons in the current Iranian calendar year (ends on March 20, 2021) compared to the previous year, reaching 220,000 tons. The country exported more than 35,000 tons of pistachio during the first four months of the current Iranian calendar year. China was the main destination for the Iranian pistachio, followed by Germany, Iraq, Russia, and Kazakhstan.  (Quoted from Tehran times 1-10-2020).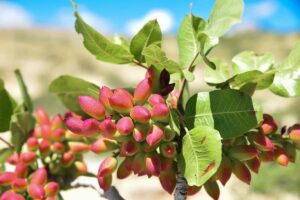 News for pistachio saffron dates raisin and almond
top 10 pistachio producing countries – top pistachio exporters
Sumac : Cultivation and dying or medicinal Uses of iranian sumac
Almond Exports Earn $25m p.a.
Some 160,000 tons of sweet almond valued at close to $1 billion are produced in Iran every year, of which 4,000 to 5,000 tons worth $25 million are exported to 26 countries, including Turkey, India, Germany and the littoral states of the Persian Gulf, according to Ramezan Rouintan with the Ministry of Agriculture. The official added that per capita almond production in Iran stands at 2.2 kilograms per year, whereas the global figure is in the neighborhood of 400 grams, Mehr News Agency reported. In Iran, more than 160,000 hectares of orchards are under almond cultivation. The main producers of the nut include Fars, Lorestan, Chaharmahal-Bakhtiari, Khorasan Razavi, Hamedan, Markazi, East and West Azarbaijan, South Khorasan, Yazd, Kermanshah, Qazvin provinces. (Quoted from Financial Tribune 03-10-2020).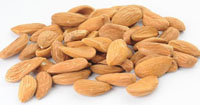 Raisin Exports at $167m in Fiscal 2019-20
A total of 129,000 tons of different types of raisins worth $164 million were exported from Iran in the last fiscal year (March 2019-20), registering a 6% rise compared with the year before. According to Darab Hassani, an official with Agriculture Ministry, Iran has more than 308,000 hectares of vineyards (289,000 hectares of which are productive) with an annual output of 3 million tons of grapes, out of which some 200,000 tons of raisins are produced, ILNA reported. The official expects exports to increase to 150,000 tons this year. The main grape producing provinces in Iran are Fars, Qazvin, Hamedan, Khorasan Razavi, East Azarbaijan, West Azarbaijan, Zanjan and Markazi in a descending order. Domestic raisins consumption is 40,000 tons per year.  (Quoted from Financial Tribune 12-10-2020).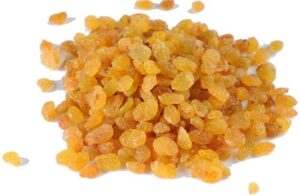 Iran Exports 61,000 Tons of Dates to 52 Countries in Four Months
Iran has earned more than $53 million from exports of various verities of dates in the first four months of the current Iranian calendar year. A spokesman of the Iranian customs office (IRICA) said that date shipments sent to 52 countries over the four-month period had amounted to nearly 61,000 metric tons in volume terms. Rouhollah Latifi said that Iranian premium quality dates are becoming increasingly popular in markets from Scandinavia to South America, Press TV reported. "From a quality perspective, Iranian date varieties are unique in the world," said Latifi, adding that the Mazafati variety, generally cultivated in southeastern Iran, was responsible for a bulk of revenue earned from date exports over the four months to late July with around $29 million. The official said Iraq, once one of the main date producers in the world, was the top buyer of Iranian dates with nearly $10 million worth of purchases, followed by Pakistan and Kazakhstan at $7.7 million and $5.92 million, respectively. Increased exports and better weather condition has caused a boom in the Iranian agriculture sector as it grew by nearly 10 percent in the past fiscal year ending late March. Business sources believe Iran is the second largest producer of dates in the world on 1.2 million tons of annual output. They also put Iran on top of the world's list of largest date exporters ahead of Saudi Arabia and Egypt, the two other leading producers.   (Quoted from Tasnim News Agency 21-10-2020).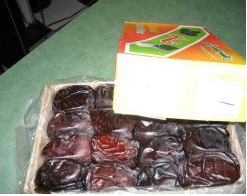 Fig Exports at around $50m in Fiscal 2019-20
A total of 13,600 tons of figs worth $50 million were exported from Iran during the last fiscal year (March 2019-20), according to the director general of the Agriculture Ministry's Tropical and Subtropical Fruits Affairs Bureau."More than 104,000 tons of figs were produced on over 59,000 hectares of orchards across the country during the period," Zahra Jalili-Moqaddam was also quoted as saying by Fars News Agency. The official noted that the southwestern Fars Province is Iran's fig production hub and accounts for the lion's share of the country's exports. Lorestan in the northwest and Kerman in the southeast are other main producers of the fruit.  (Quoted from Financial Tribune 23-10-2020).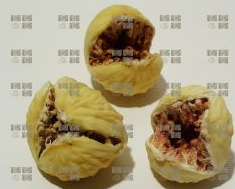 About 85 percent to 90 percent of Iran's saffron is produced in the northeastern provinces of North Khorasan and Khorasan Razavi and the eastern province of South Khorasan. Based on the data released by Iranian Vice Presidency for Science and Technology, Iran earns some $500 million per annum by exporting medicinal herbs, of which about $350 million is related to saffron and the rest is the share of other medicinal herbs.  (Quoted from IRNA.ir 10-10-2020).