As a leading manufacturer and exporter of Iran dried fruits and nuts including Iran pistachio,Iran Saffron, Iran Raisin, Iran Almond, Iran Fig, Iran Dates, Iran Walnut, Iran Apricot and more. we are boasting about our abilities to provide our customers around the world with best quality products that meet or exceed their requirements.

Iran is locating in the best climatically and meteorologically conditions and profiting the best sun affects, Our products are admirable in taste and odor and are right products offered for every taste.
We are the supplier for fresh tasty naturally grown nuts which are led by our passion to supply fresh, flavorful and pesticide-free products that not only keep pace with global needs, but anticipate them as well.
Combining the traditional farming methods that are still used by our local farmers with our experience of the past, our high-tech laboratories, experienced technologists and highly motivated team work players who deeply believe in producing high quality products in the limited period of time, we earned a reputation for having a solid relationship with customers and providing the best insurance product at the lowest price.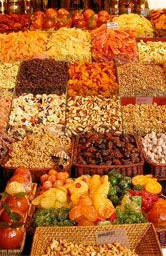 Iran Pistachio
Iran is biggest pistachio producer in the world. Iranian pistachios are very delicious and are available in many varieties and flavors. We produce and export all kind of pistachios including Round Pistachio (Fandoghi Pistachio), Jumbo Pistachio (Kalle Ghuchi Pistachio), Long Pistachio (Akbari Pistachio), Long Pistachio (Ahmad Aghaee Pistachio) and more. For more information you can visit Iran Pistachio
Iran Saffron
Iran harvest about 70 - 90% of the entire world production of saffron. Iran Saffron is seen as the king of the saffron species. We produce and export all kind of saffron including Sargol Saffron (All Red Saffron), Pushal Saffron (Mancha Saffron), Daste Saffron (Bunch Saffron) and Powder Saffron. For more information you can visit Iran Saffron
Iran Raisin
Iran is one of the biggest exporter of raisin in the world. The advantage of Iranian Raisins is principally its price and different methods of processing, and that's the reason why Iranian Raisins are amongst the Best raisins in the world. We produce and export all kind of Raisins including Sultana Raisin (light Brown Raisin), Sultana Raisin (Dark Brown Raisin), Golden Raisin (Round-California Raisin), Golden Raisin Jumbo (Kashmari Raisin), Green Raisin Jumbo (Kashmari Raisin) and more. For more information you can visit Iran Raisin
Iran Dates
About 400 varieties of dates are cultivated in Iran, but only some of them are exported, because their tastes compose the major kinds. We produce and export all kind of dates including Mazafati Dates, Piarom Dates, Sayer Dates, Zahedi Dates, kabkab Dates, Rabbi Dates, Shahabi Dates, Chapped Dates and more. For more information about dates you can visit Iran Dates